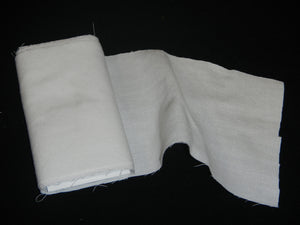 We have experimented with many different fabrics over the years for a quality mull, the fabric glued to the spine of a hard covered book.
The commercial open weave cotton is typically quite weak for the school text books we bind, as they get a pretty rough life. We eventually settled on light cottons or polyester cottons, sometimes even using old bed sheets. To make the bindery more efficient, we cut the mull into strips with our guillotine, and we have plenty of this in stock.
We can include a length of our standard size, about 120mm in width, with any order of bookbinding gear, for no extra charge.  The mull you receive may not match the photo as we will supply whatever is on hand. If you have a seemingly dark colour or a pattern such as gingham, don't worry, the mull will be covered by the endpaper and won't be noticed. Happy binding.