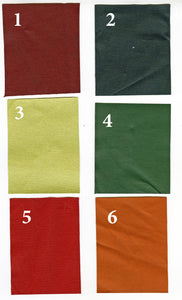 This price is for one metre of Library buckram - the classic book covering material, especially for those jobs that need extra class and durability. Now only one colour left as per the photo:
1 burgundy/maroon, 
(SOLD OUT)
2 dark green, (SOLD OUT)
3 bright green,
4 lime green, (SOLD OUT)
5 red, (SOLD OUT)
6 terracotta (burnt orange) (SOLD OUT)
Some stocks are limited to only a couple of metres. Please specify colour when you have completed the auction. Priced per metre from a roll 1060mm (42 inches) wide. Colours may not be exactly the same because of differences in monitors and software.
Library buckram is designed to protect heavy-use books and produce a virtually indestructible package. Buckram's moisture resistance and durability make it ideal for menus, looseleaf binders, books, or any package in need of extra protection.
Buckram decorates beautifully with foil stamping, blind embossing, and screen printing.