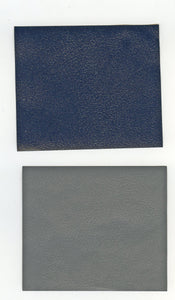 Textured bookbinding material - we don't have the trade name for this, but it's a textured semigloss finish on a strong durable paper about 150 gsm in weight.

Can be glued with PVA and normal bookbinding adhesives. Available in grey only, with only about 2 metres left. (The dark blue in the photo has sold out.). Priced per metre from a roll 1360mm wide.

Colours may not be exactly the same because of differences in monitors and software.