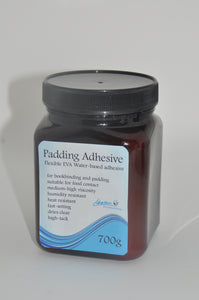 EVA padding adhesive is an essential product for bookbinding projects. Unlike conventional PVA glue, padding adhesive contains plasticizers (colourless and odourless esters) which soften the PVA and make it flexible. This allows movement in the book's spine without cracking the glue which holds the fabric and endpapers in place. We normally use padding adhesive for gluing spines and endpapers in place, and for making book jackets that are totally covered in material.

Padding adhesive is also used for making pads of writing paper, drawing pads and the like. Just make a big stack of paper, apply the padding adhesive to one side, and when dry, slice off sections of the paper as pads where the paper can be removed one sheet at a time without tearing. The padding adhesive has enough grip to hold it all together, and enough flexibility to allow sheets to be removed.

Advantages:

high-tack
dries clear
fast-setting
water based
heat resistant
humidity resistant
medium-high viscosity
suitable for food contact

Available in a 700 g bottle.