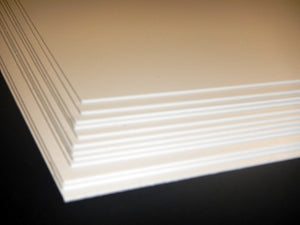 This is a high quality board useful for bookbinding projects and many other craft projects. We generally use this for making hardcover books or for craft projects.
The board can be cut with a craft knife and a straight edge, such as our 500mm stainless steel ruler.
Supplied in sheets 450 x 640 mm. Packs are of different numbers to manage freight. 
12 of 1mm thickness
12 of 1,5mm thickness
10 of 2mm thickness
6 of 3mm thickness