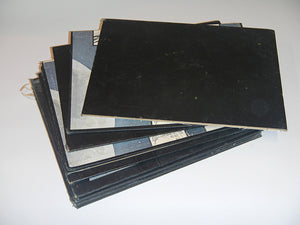 This is the most economical supply of thick cardboard you can find for bookbinding projects - 12 recycled hardboard covers from old books. Size around 200 x 280mm. Normally 2mm thick. This amount of board should easily yield an equivalent amount of material as two sheets of the 450 x 600mm white cardboard.

This is a good quality board useful for bookbinding and many other craft projects. We generally use this for making hard covers for our library books or school text books by trimming off the edges to take a clean, sturdy piece from the middle of the old board.

You may need to remove lamination or gloss paper from the boards.
The board can be easily cut with a craft knife and a straight edge.
The material supplied may not match the photographs.